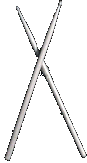 David has a long musical history that began by chance when a friend gave him his first pair of drum sticks.
"I'll never forget that day" he says." I was hanging out over at a friend's house. We helped his older brother clean up his bedroom. I found an old pair of Ludwig drum sticks, 1S model to be exact. My buddy's brother said I could have them for helping clean up. I started banging on a nearby chair to a Beach Boys record...they all said, 'wow, you sound pretty good!' I was 14."
"My best friend, Jamey Brzezinski, had an electric guitar and amp. We formed this band (just the two of us), and would jam together every day after school. I took a plastic bucket and wrapped waxed paper around it with a rubber band...that was my snare drum. Then I had a plastic trash can for a tom tom, and last but not least, a fire place shovel for a ride cymbal. I think the first tune we played together was "Route 66", by the Rolling Stones. This all took place in the summer before 9th grade. By the time we were back in school that fall, we had a keyboard player in the band, Jack Blair. I still didn't have a real drum set, nevertheless, we still got together to work up tunes."
"By this time, I was on my parents pretty heavily to get me a drum kit. Jamey and I would hit all the music stores in town after school and on weekends. After a couple of months, the store owners would see us coming a mile away...they would stop us and say, 'no, no touching the G...Damn, instruments!' So, I was finishing my first 9th grade quarter, and to my dismay discovered that I was flunking Algebra! My mom flipped out and said that unless I brought my grade up to a B, I wouldn't be seeing any drums for a long time. That meant I had to get an A for the 2nd quarter. I went up to the teacher and requested that he let me sit up in front. I explained that I needed to get an A for the next quarter, or I wouldn't get my drums. I don't know who said it, but it's true...you really do appreciate things that you have to work for. I passed that class with flying colors."
"For my 15th birthday, my dad took me to Wallach's Music City and bought me a red sparkle drum kit. I think it was a "Crown" kit...made in Japan. I'll never forget, I got it home and had no idea how to integrate the bass drum. That weekend, I took my new kit over to Jack's house and we played our material for the first time on real gear! I think I just played 4-on-the-floor to all the beats I knew with my hands. Later that year we did our first real gig. It was at the Arrow View Jr. High assembly. We called ourselves, 'Young Blood.' It's amazing to think of how much we accomplished in a short period of time... everyone was self taught (except for the keyboard player). We started playing all the school dances and parties. We even had a manager...basically, a guy who thought we were cool and had his own car."
"That ride lasted until the beginning of my Junior year in high school. Then, as fate would have it, I was asked to jam with an 'older bunch of guys'... they were in their early twenties. I was torn between friendship and a chance to really stretch my wings. It was tough, but I left my first band, and joined a band that would change my life up to this very day! We called ourselves the 'Mobile Home.' We were quite ahead of our time as we had three guitar players that all sang. As it goes with bands, one of the guitar players didn't like having to share the lime light with two other guys. His name was Eric Fields. We went to school together... he's who actually referred me to the other guys. Well, Eric had an older brother named Barry who played bass. Barry's best friend (who happened to play guitar and sing) was a young Sammy Hagar. Barry had told Sammy that Eric wasn't happy with the band, and Sam asked Barry to take him over to our rehearsal."
"I recall Sammy being dressed really cool and really digging our music. Afterwards the leader, Jesse Llamas, told the rest of us that Sammy wanted to take Eric's place. Even at that young age, I had the balls to ask if this Sammy guy was any good...'what can he do?' Well, the next day we all jammed a couple of Cream songs...Sammy played the solo to "Sunshine Of Your Love" note for note. We've been friends and gigging together ever since. After the Mobile Home broke up, Sam and I formed several bands together. I was out of high school by then but still too young to play in bars. In those days you could actually play hip rock music and make decent bread in bars. It was the early seventies in Southern California. My older brother let me use his I.D., and Sam and I landed our first night club gig. The band was called The Justice Bros....the club was called "The Night Club!" We jammed our asses off, playing as loud and as much Rock as we wanted."
"That band eventually moved up to the San Francisco Bay Area. From there, Sammy heard from a mutual friend that Ronnie Montrose was looking for a singer. Sammy auditioned and became the lead singer and co-songwriter for Ronnie Montrose's new band..."Montrose!" During that time I was becoming disillusioned with the Rock scene, and wanted to delve more into Funk and R&B. I did so for a couple of years and by doing that I really began to understand how the rhythm section worked, and developed a lot more independence on my drum kit. Finally, I moved back to Southern California, playing in several Rock and R&B groups."
"I finally decided to take a chance on this young rock group called Free & Easy..later to be renamed TOYS. Funny, all this time before I had been playing with the older guys, and now I was was the oldest guy in the band! This time around I was really playing Rock with a newly found confidence and savvy, having come full circle so to speak. Sammy and I always stayed in touch as friends, and during my stint with Toys, Sammy checked us out now and again, and actually helped produce a couple of our demos. I was getting valuable composing and recording experience. It is so important to realize that even though some things may seem insignificant or temporary in one's career, they all lead to forming the overall picture. Sammy took notice that I had really progressed as a Rock drummer, and asked me to join his solo band in 1980. From that re-connection with Sam, I went on to record all the Geffen albums for Sammy up until and during his stint with Van Halen."
David and Sammy have played together on and off for over 30 years. In fact, there is no drummer Sammy has spent more time touring and recording with than David. According to Sammy, after he and Van Halen parted ways, David was the natural choice. Even during Sammy's time in Van Halen, he asked David to play drums on his non-Van Halen music, including his solo record, I Never Said Goodbye, and his 'Best Of' record, Unboxed. Additionally, Sammy recruited David and Van Halen bassist Michael Anthony to form his "party" band down in Cabo San Lucas, aptly named "Los Tres Gusanos" ("the 3 worms" in Spanish). According to all involved, Los Tres Gusanos will never die, and rumours abound that they may resurface in Cabo in the future.
David's discography, found in the Discography section, highlights all his professional recordings, videos, soundtracks, DVDs, even video games for which he has supplied music.