continued from the Home page...
[October 12, 2003]
All in all, last weekend was unpredictable to say the least. Michael Anthony then added to the party this weekend. We reformed Lost Tres Gusanos once again this year for an amazing set on Thursday night. Vic joined us to add some guitar on a few tunes and Mona added some of her killer background vocals to a couple songs. I think that may have been the best night yet. We pulled out old tunes that we haven't played in years and flew by the seat of our pants.
Saturday night the Waboritas resumed for an awesome long set and Mikey joined us again. We played more VH tunes than I think we've ever played in one night, in addition to a whole set of our regular songs.
Tonight is Sammy's birthday, so who knows what the evening brings.
Take care.
David.
Webmaster's note: Many pictures will be up on the site by the end of the week.
________________

continued from the Home page...
[August 5, 2003]
Tour to Resume August 6th.
Sammy Hagar and the Waboritas will continue their tour August 6th in Corpus Christi, August 8th in Houston and August 9th in Dallas. The San Antonio and Denver shows are canceled. These two shows will not be rescheduled. Refunds will be given at the point of purchase for these shows.
________________
[August 1, 2003]
Tour to Resume August 8th.
From David:
I send my thoughts and prayers to Gary, what a great guy and talent! These past few weeks with Lynyrd Skynyrd have been a blast. They are probably the most down home, for real band we've ever toured with. I would love to hang with them any time! Gary, I send my best to you and look forward to seeing you again in a few days!
David.
________________
The following was released this morning.
"PARTY OF A LIFETIME TOUR"
WITH CO-HEADLINERS SAMMY HAGAR AND LYNYRD SKYNYRD
TO RETURN TO THE ROAD AUGUST 8
LYNYRD SKYNYRD LEAD GUITARIST GARY ROSSINGTON
ORDERED TO REST TO COMBAT MEDICAL FATIGUE
August 1, 2003: The "Party of a Lifetime" co-headline tour with SAMMY HAGAR
and LYNYRD SKYNYRD has canceled the upcoming five scheduled concert dates
beginning today, Friday, August 1 through Wednesday, August 6, as founding
Lynyrd Skynyrd lead guitarist Gary Rossington has been advised to
immediately rest in order to combat medical fatigue.
The "Party of a Lifetimes" dates, August 1 at the Oak Mountain Amphitheater
in Pelham, AL, August 2 at the Hi-Fi Buys Amphitheatre in Atlanta, GA,
August 3 at the William Floyd Amphitheatre in Anderson, SC and August 5
concert at the SETEC Amphitheatre in Beaumont, TX have been canceled.
Refunds for canceled shows will be available at the ticket's point of
purchase.
The August 6 concert at Concrete Street Amphitheater in Corpus Christi, TX,
show will continue as scheduled featuring Sammy Hagar. According to the
Skynyrd camp, August 2 at the Hi-fi Buys Amphitheatre in Atlanta, GA and
August 3 at the William Floyd Amphitheatre in Anderson, SC will be
rescheduled for Lynyrd Skynyrd only in September with Atlanta (September 10)
and Anderson (TBA). Unfortunately, two other concerts--August 1 at the Oak
Mountain Amphitheater in Pelham, AL and August 5 at SETEC Amphitheatre in
Beaumont, TX have been canceled due to routing difficulties.
The "Party Of A Lifetime" tour is scheduled to start again next Friday,
August 8 at the Cynthia Woods Mitchell Pavilion in Houston, TX. The tour
kicked off July 19 and runs through August 17.
According to Hagar, "We wish Gary a speedy recovery so we can get back on
the road with us and kick some ass."
Rossington underwent a successful open heart operation in late February and
was given the green light from Smith to return to the stage June 13 in
Karlsruhe, Germany.
Both artists are currently supporting their latest CD's; "Sammy and the
Wabos Live, 'Hallelujah" and Lynyrd Skynyrd's "Vicious Cycle."
Both bands regret this inconvenience to their fans.
[July 16, 2003]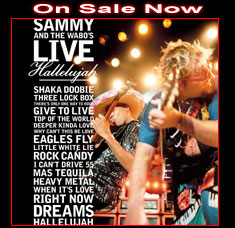 Hallelujah!!
We are back out at it again this summer! Sammy Hagar and the Waboritas just played our first few shows, in Minnesota, Indiana, and Louisville. I am so happy to be back out here doing what I love to do.
Ah, I almost forgot to even mention.....we have a brand new live record out! Hallelujah! The title pretty much sums up how I feel about it. To learn more about the record, go here. To buy the record online, go here.
I am really jacked about my sound and our performance on this record. I feel it really captures what the band is all about! If you see me this summer, let me know what you think of the record! I'd love to hear your comments.
[May 31, 2003]
Wearing the DW Hat!
Although I enjoyed my time with Mapex, times have changed, and I am happy to announce I have found a new home with DW. I have used DW pedals for years, and finally made the decision to join forces with this amazing drum company. I love the drums! Check out the Drum Workshop web site at DWDrums.com to see what I mean.
[May 31, 2003]
Summer Tour 2003!
It's that time of year again. Our summer tour starts July 12th, and we'll be all over the U.S. once again. Check the Tour section for dates, and check us out - and I can't wait to check out my new DW kit!!!
________________
[April 16, 2003]
Happy Birthday, Mona!
From David:
Happy Birthday to Mona, one badass bass player and a great friend!
________________
[April 14, 2003]
Tour Dates
Like clockwork, as springtime kicks into full swing and summer approaches, Sammy Hagar and the Waboritas turn it up a notch to get ready for summer concerts. Concerts start up and down the West Coast in two weeks, as part of the Cinco de Mayo festivities. After that, David will take a little time off (not really, though, of course) and then they will hit the road full time for the summer tour. As soon as the dates are finalized we will post them in the tour section.
________________
[March 14, 2003]
Rockline live performance and Cabo for Spring Break
From David:
"Hopefully you were able to catch some of my performance on Rockline this week. Although I understand there were a couple of technical difficulties with Rockline and their feed for part of the show, the gig was a blast. We were joined by Michael Anthony, Neal Schon and Deen Castronovo from Journey and the amazing Joe Satriani. My webmaster was able to capture my performance on video and it should be up on my site within a few days. Click on the picture below here for a few pictures so you can get an idea of what went down.

And then go here for more pictures and video.
I leave for Cabo San Lucas in the morning for a week of sun and shows. If you're going down to Cabo this next week, come by the club (the Cabo Wabo, of course) and check us out."
[March 12, 2003]
David Live on Rockline Radio tonight!
Listen to David and the rest of Sammy Hagar and the Waboritas (and some surprise special guests!) live on Rockline tonight. Rockline is a weekly nationally syndicated rock radio show sponsoring interviews and music with rock artists from around the world. To find which of your radio stations carries Rockline, check their web site here. If you cannot find a local station that carries Rockline, you can listen to it live on the Internet tonight from this link.
Enjoy!
[February 18, 2003]
David on the Radio
David accepted an invitation from 103.7 The Buzz in Little Rock Program Director Jeff Allen to give an interview to that station's morning show DJ's Dave & Stanley this morning. At 7:30a.m. David took the call from the Rock station and answered any and all questions from the morning crew. Although it was early, David had a blast with the guys. As soon as we get a copy of the interview, we will put it up here on the web site.
[February 10, 2003]
On the Road Again
David will be trekking through the country again this summer, this time his band will be sharing the bill with the legendary Lynyrd Skynyrd. Details are all still being worked out, but tour dates and details will be posted when they are available.
David has been both working and taking some time off this winter. He made the annual trip to the NAMM convention and he has been working on a couple of side projects.
You can also check out a substantial amount of pictures and video on the Media section of the site, including video from David's New Year's Eve shows down in Cabo.
[January 1, 2003]
Happy 2003 from Cabo!
We came down here at the last minute and decided to bring in the new year in front of the crowd at the Cabo Wabo. What a blast! We even had a couple friends drop by and one of them joined us on stage for a few jams right before midnight. I have it on video, so as soon as we get back I'll have it put up here on the web site for you all to see.
Hope you all had a safe, happy and healthy New Year's and you're enjoying 2003 so far!
Take care!
David.
[November 06]
Well it has been a long time since my last update. I am finally relaxing after seven crazy, intense, fun-filled, months. It started early this year with recording our new record, "Not 4 Sale", and continued from May into September with our Hagar/Roth Summer Tour. In October there was Sammy's annual birthday bash, playing shows with Smash Mouth, the winners of the Mexican Meltdown Radio Contest, Rico Monaco, and a rare appearance of Los Tres Gusanos at the Cabo Wabo in Cabo San Lucas, Mexico! Finally, Vegas, a live KSJO radio show and a free concert in my own backyard - San Francisco. To top it off, I managed to find time to get married in October, the 26th to be exact (my fiancee did 99% of the planning)!
A couple of clips from the new CD are available below.

Big Square Inch - Real Audio / Windows Media
Whole Lotta Zep - Real Audio / Windows Media
Hallelujah - Real Audio / Windows Media
And of course the first single off our record:
Things've Changed - Real Audio / Windows Media
I am very proud of our new record, titled "Not 4 Sale", (released October 8th). The rhythmn section is especially slammin' on this one! Not to mention probably one of the highlights of my career...I actually share the lead vocals with Sam on a rocker titled The Big Square Inch!
That's a first for me...I had a blast singing! Sammy says "he's been my drummer since the early 1970's and we've been friends since we were kids. He's the worst singer in the world but he has such an attitude, the songs really rocks."
David.
If you'd like to purchase the CD, you can get it directly from Tower Records here.
_____________________________________________
[November 06]
Also look for David's drums on the recently released "A Hard Days' Night" DVD. In between everything else he worked on this year, he squeezed in time to add his own version of a Beatles-esque style. Although credits were not handed out for these parts, those are David's drums throughout all the Menus on the DVD!
[Summer 2002]
HAGAR/ROTH SUMMER TOUR 2002
Most of the news this summer will be updates by David from the road during the Hagar/Roth Tour, since that's what he's busy doing. Their first leg began May 29th in Cleveland and ran through the end of June with the last show of the first leg in Seattle.
The second leg picks up July 23rd in Louisiana and climbs up the Midwest, back down through the South and up the East Coast before winding down on Labor Day weekend in New York. Stay tuned.
[August 28]
Wow! There are always surprises on the road. We can't believe the following we seem to have picked up over the past few years up here in New England. We were blown away by the response from the crowd last night in Gilford and up here generally over the past few years! Thank you so much for all the great crowd response in the New England area, it just means we'll have to include New England that much more in upcoming tours!
David.
[August 21]
Win a trip to Cabo San Lucas and Party with the Waboritas
David and Sammy and the rest of the Waboritas will be in Cabo San Lucas this October for the annual Birthday Bash. An added bonus this year is the Mexican Meltdown. On October 4th and 5th, the weekend before the Birthday Bash, Sammy and the Waboritas will play along with Smashmouth for the lucky fans in the Cabo Wabo Cantina. The Hard Rock Cafe and the Cabo Wabo Cantina are giving YOU the opportunity to be one of those lucky fans, by giving away a trip for two (2) to Cabo San Lucas to party with the bands! Go directly to the Hard Rock's Web site to enter. Be sure to read the rules and regulations.
[August 09]
Atlantic City, New Jersey
From David:
"Hi there! Well, we're full swing in the middle of the second leg of this tour. We have a day off here in Atlantic City before we play here tomorrow night (I hear a few slots calling my name! :)), then continue up the East Coast with Pittsburgh Sunday and several more dates in Pennsylvania. Since I grew up in Pennsylvania and still have MANY relatives here, I'll have a lot more 'Hi cousin Gracie' and 'Hi cousin RuthAnns' than usual. It's always a homecoming of sorts when I play in Pennsylvania. I love it.
The tour's going great, and all the fans have been so awesome. A lot of new fans, who haven't seen us play before, have been stopping us to thank us for the great show and tell us they have now become fans. I guess it's us who really want to thank all of them - the old and new fans - you guys make this tour totally worthwhile!!!"
[August 02]
West Palm Beach, Florida
From David:
"Hey. Let the fans know we've added a FREE Hagar and the Waboritas ONLY show in New York City on August 29th. One half of the tickets will be distributed to NY Port Authority workers, the NYFD and others involved in the 9/11 rescue effort and the other half will be available from your local radio station as well as on a first-come, first-served basis on the night of the show!!!
I can't wait! I love this tour, but the real bummer for me is we only get to play for 90 minutes. We're used to playing with no opener or other act, and we usually play for 2 1/2 hours. I'm looking forward to our free Hagar and the Waboritas ONLY show for NY August 29th. See you there!!
[July 10th]
Home
David and the band are taking a much deserved 3 week break between the first and second legs. Time to relax, get massages, visit with friends and family, and re-charge for the rest of the summer. Of course David, being the kind of guy he is, can't stay away from his kit too long (definitely not 3 weeks), so he has been up in his rehearsal studio tinkering and fine-tuning for this next leg.
[June 2nd]
Chicago
David reports: "As we get into the groove of this tour, we're all seeming to settle in to a rhythm for the shows. Last night we played the Tweeter Center (formerly the World Music Theatre) outside Chicago. Michael Anthony popped in to play about half a dozen Van Halen songs with us during our set, then we finished and Roth played his set. We had one of our first glitches of this tour (I'm sure their will be many more - don't expect me to report them all, though) - when Mike first came onstage Vic's guitar went out as we began to play - of course it was fixed, Sam kept the crowd going in the interim, and we played twice as hard to make up for it. Gotta love the road. It's always a blast playing with Mike. I enjoyed all our trips down to Cabo years ago when he, Sam and I played in our little band "Los Tres Gusanos", and now after playing a few shows with him with our band, it seems like old times in a way. On to Indy tomorrow night."
[June 1st]
The Motor City
"So last night we closed the DTE Energy Center in Detroit - Motown. After Roth finished his set, Kid Rock and Ted Nugent showed up to introduce us, and Ted joined us back onstage for an encore of Wild Thing. It was a blast. From a musician's perspective, there are pros and cons to having the opening slot one night and having the closing slot the next night. I won't go into them here, but believe me, you definitely have to make adjustments for both - keeps me on my toes each night! Tomorrow it's straight over to Chicago. See you there."
David.
[May 30th]
Cleveland Rocks!
"The Hagar/Roth tour is in full swing! We just finished our first show last night at Blossom Music Center in Cleveland, Ohio. Can you say energy! Wow - not only was the crowd excited - but we were so stoked to get out there and put on one hell of a party! Our production rehearsal the day before had more energy than a lot of people put into the real show. We thought we would have nothing left after that, but last night was awesome!
Since Roth won the coin toss on Howard Stern, he closed the show last night in Cleveland, and we will alternate the closing slot for each night of this tour. A few of us checked out some of his set before we took off - I was impressed. He has a great catalogue of material to work with, and he was a complete professional. This is turning into a great summer!
We have a day off before we hit Detroit Friday night. See you then!"
David.